5 top challengers for the BMF Title
Dear Dana White:
Since you insisted on giving Masvidal a lowball offer to fight for Marty FakeNewsMan's Welterweight championship, I've taken the liberty of coming up with a few attractive opponents who could easily challenge for the BMF title and deliver Jorge Masvidal his much-deserved payday.
5. Leon Edwards
There Masvidal was, minding his own business while conducting a post-fight interview. As Jorge was trying to explain why he loves to silence his doubters, Leon Edwards decided to intervene by making threats as he walked through. Before anyone knew what was going on, Masvidal served up a three-piece and a soda as he defended his street credibility. Boom! No further promotion needed for this matchup.
4. Colby Covington
Former training partners turned enemies; this fight would be one for the ages. It's not a great stylistic matchup for Masvidal -we all know that Colby will centrally focus on Jorge's crotch as he shoots for takedown after takedown -I'd still like to see the BMF champ showcase his takedown defense skills and end Covington's hype train at the same time. Masvidal vs.Covinton is another fight that easily promotes itself.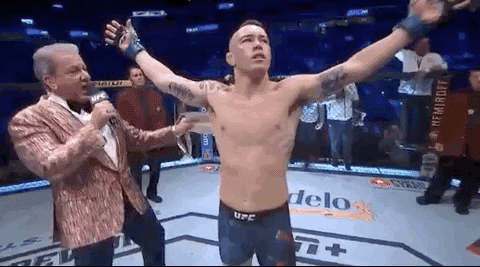 3) Nate Diaz
Who better to challenge for the BMF Belt than the man that initially came up with the idea? Nate Diaz felt shortchanged with how the first fight with Masvidal ended. The referee's decision to call the match due to a massive gash over Nate's eye left us all thirsting for more action. Masvidal also said he'd be open to a rematch during the post-fight presser after he claimed the BMF belt. Jorge loves to "baptize" his opponents. So what's the holdup, Dana?
2) Nick Diaz
After Jorge laid the smackdown on the younger Diaz, big brother decided to conduct an interview with Ariel Helwani and issue a challenge to the newly crowned BMF champ. During that interview, Nick described a poster the UFC had previously made matching him up against Masvidal. And you don't take about baptizing a man's younger brother. So, since you've already got the poster made Mr. White, and since both fighters already agreed to fight one another, pony up some cash and give us this super fight that's sure to deliver fireworks.
1) Conor Mcgregor
This is undoubtedly the most significant money fight the UFC could make for its veteran BMF champion. It's pretty much a no-lose situation for the UFC. First off, it's sure to make truckloads of cash for both competitors and the promotion. There is a zero percent chance either of these guys goes for a takedown. I can picture it now: 3 rounds of nonstop action before one of these guys connects with the kiss of death. And Bonus for the UFC! Whichever fighter loses is humbled a bit and brought back to reality, all while losing a bit of negotiating power moving forward. Get the contract ready, Dana.
Do the right thing, Dana! Give Jorge Masvidal his well deserved red panty night! I'd be happy seeing the BMF Champion defend his title against any one of these outstanding fighters.
As always, thank you for reading!
Do you think there are any better challengers for Jorge Masvidal's BMF belt? Let me know in the comments.
More UFC Posts!!
Hello everyone and welcome to the Pack Pick. As the Packers keep piling up wins and rolling along, we'll continue analyzing the upcoming games for the Green and Gold. Green Bay had one of it's more impressive victories over Chicago. They committed to the running game and married it with an efficient passing game againstContinue reading "The Pack Pick: Philadelphia"
All week I was forced to listen to how ferocious the Chicago Bears defense is. It was quite refreshing to watch the Packers take the opening drive down the field for a touchdown. Aaron Jones busted multiple runs right up the middle of that Bear defense. It was only momentarily satisfying because as soon asContinue reading "Packers crush bears"
Hello everyone and welcome to a somber Star Wars Monday. We will be deviating from the original topic and instead offer our remembrance for David Prowse, the man behind the mask of Darth Vader. Prowse was a body builder early in his life. Prowse then got into show business, even helping train Christopher Reeve forContinue reading "Rest In Peace"