Classic Dana
Dana White was asked a simple question last night at the UFC 250 post-fight press conference. He was asked why so many of his stars were suddenly complaining about their fight contracts. As usual, White played dumb then proceeded to throw one of his trademark temper tantrums. Dana immediately tried to discredit the reporter by saying it was a stupid question. White went on to explain that this isn't the first time fighters have complained about the contracts they've signed. White got awfully defensive for a guy who claims to not know anything. The self-proclaimed King of the UFC, who knows everything about everything, claims to not know why many top tier fighters are frustrated with their contract negotiations. So sorry Dana, this fight fan isn't buying it. The UFC plays dirty pool when it comes to negotiating with its fighters.
I love it when Dana says that fighters don't have to fight. So, what do you propose they do Mr. White? Dana refuses to release fighters from their contracts. It's pretty clear that many fighters don't fully understand the terms of the contracts they've signed. What's even more perplexing is fighters continue to be frustrated despite paying a manager to avoid these types of issues.
The Masvidal Situation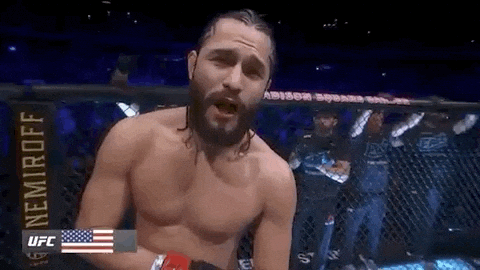 Another one bites the dust. Jorge Masvidal is the latest UFC fighter to ask for his release. I've expressed frustration with Kamaru Usman for not willing to accept the fight, but it turns out that Masvidal is being the difficult party. The current state of the UFC has been frustrating to watch unfold. Masvidal claims the UFC is lowballing him, stating he received more money from his last contest against Nate Diaz. White says Masvidal recently signed an 8 fight deal that has 7 fights remaining. As usual, I figure the truth lies somewhere in the middle. Dana White clearly has too much power with these fight negotiations.
I find it quite odd that Masvidal is suddenly unhappy with his new fight contract. While White probably isn't lying about Jorge being under contract, I can't help but think he misled Masvidal's management team into signing on the dotted line. According to Masvidal, he was willing to waive his base salary and get paid purely on PPV points. It's awfully convenient how Masvidal's matchup against Diaz was the first fight on the deal. I can picture it now, Dana explains how they have this brilliant idea revolving around the BMF Title which would pay Masvidal bonus cash based on PPV buys. Masvidal was probably so excited at the prospect that he figured this is how it would work moving forward. So it's reasonable to think that Dana offered such a long contract just as Jorge was heading into the biggest payday of his career. How did Masvidal's management team let this happen? It's suddenly clear why Dana was so adamant about the BMF Belt being a one-time thing. Masvidal's not technically a champion, so he doesn't deserve championship perks. At some point, you have to accept the fact that the UFC plays by its own rules. And they don't negotiate. What they do should be called entrapment. They get these fighters to sign these longterm deals, then hold them to the terms no matter how outdated they become.
Conor retires… again!
Another bit of news came out as the UFC President was fielding questions last night. Conor Mcgregor announced his retirement from the sport. I wish I could say I'm surprised, but we've seen this from Mcgregor before. I've grown tired of the Conor show. I've always loved watching him fight, but after he reached superstar status I've been nothing short of frustrated with the way his career has gone. I remember when Conor Mcgregor fought Chad Mendes on short notice after Jose Aldo pulled out. I remember when Conor accepted a short notice fight against Nate Diaz after Rafael dos Anjos was forced to withdraw. I want that Conor back. It's easy for me to be frustrated with Mcgregor for the way things have gone, but the recent disputes several fighters are continuously expressing have me directly the blame towards the UFC.
Dana's a bully
Dana White is smart. I'll give him that. He knows how to use all the leverage he has. Tyron Woodley was thoroughly outclassed by Gilbert Burns when they fought on May 30th. As long as Dana has a hungry young lion willing to accept championship fights, he'll always have the leverage he needs. Jorge Masvidal has every right to demand a share of the PPV buys. Dana White tries to sit on that podium and claim it's costing the UFC tons of cash to put these fights on. That's another outright lie. I wish Dana could get over himself and realize its the fighters that make the sport so great. I'm starting to see what Tito Ortiz was talking about all those years ago.
I've fallen for White's tactics several times, but think about all the stars Dana has problems with. Dana despises Tito Ortiz, can't stand Ken Shamrock, loathes Randy Couture, and he clearly hates Jon Jones. The list goes on and on. It's pretty clear to me that Dana White creates these problems when fighters feel they've earned the right to demand more money. Dana White is always boasting about how the UFC always gives fans the fights why want to see. That's another lie. Anderson Silva and Conor Mcgregor verbally agreed to fight against each other. While that may not be a great example, how about Jorge Masvidal against Conor Mcgregor. I'm sure many fans would love to see that fight. But Dana doesn't like the idea of that fight either. Why? Because he clearly doesn't want to pay either one of these guys the type of money they'd surely demand to compete against one another. He also doesn't want these guys demanding more money down the line. So, it's pretty clear that Dana gives the fans every fight they want, as long as the fighters are willing to play by Dana's rules. And they better not demand too much money or Dana will do everything he can to discredit your name.
It's clear to me that the UFC fighters need to establish some sort of credible union. Dana's head has become too swollen and now the UFC President seems untouchable. White has clearly done an outstanding job of promoting the UFC brand. The longtime UFC President has done an even better job at ensuring he remains the sports top star. Of course, Dana will deny any accusation someone makes against him. Dana will always claim it's about the fighters, but he's always more than willing to speak at the podium for 30 plus minutes after nearly every UFC event. Of course, I can only speculate about how much a bully the UFC President is behind the scenes, but doesn't the "White blueprint" seem pretty clear when you think about it?
I'd love to know your thoughts in the comments below. As always, thanks for reading and have a great day!
Photo by Steve Johnson on Unsplash